Room Design: Trim Design Co.
Photograph by: Megan Booth Architectural Photo
---
We LOVE before and after blog posts so much, and we know you do too! So, without any more dilly-dallying, let's dive into the kitchen renovation project for #ClientKitchenNewRules. You're going to be amazed by this one, so grab a cup of coffee and settle in for some kitchen inspiration.
This Dutch colonial home belongs to a lovely couple with two school-age children who are growing up way too fast, AND the most awesome cat you've ever laid eyes on. Meet Moby. We think Moby loved this reno project as much as anyone. When the cabinets arrived, he made himself right at home.
LIVING IN A CAVE
O.k., so the problem many of us face living in older homes is the cramped, dark, back-of-home cave…I mean, kitchen. Back in the day, a home's kitchen tended to be a small square or galley in the rear of the house, meant to keep the mess and much of everyday cooking tucked as far away as possible from the pretty rooms up front (not to mention company). Not a bright inviting space you'd want to hang out in. And hanging out in the kitchen is exactly what we all do these days. So, is there a happy medium?
The family at #ClientKitchenNewRules had already renovated the home's original kitchen when they first moved in about 10 years ago. They did not change the layout at that time. That renovation was was smack dab in the middle of the Espresso Brown trend going on in the kitchen design world. Everyone and their brother was doing dark, stained wood cabinetry, so…this family did too. The sea of espresso cabinetry in this home did nothing to help the fact that the kitchen was already a dark room with only one window bringing in natural light. Now, it really was a cave. Just add wine racks and they'd have had a perfect wine cellar!
SOMETIMES BORING IS GOOD
And this is a good opportunity for us to mention the most classic kitchen cabinet color to go with if you're planning to renovate your own kitchen. It's white. It'll always be white. White shaker to be exact. It is timeless. Yes, we might all get a little tired of seeing a sea of white kitchens out there. And to be honest, sometimes timeless means being a little boring. But, when you're doing one of the most expensive renovations in your home, it can be a good thing to stay timeless (at the risk of being a little boring). Fear not! There are lots of other ways to make that classic white kitchen stand out in the crowd and look current and fresh. We will show you a couple of those tricks here when we reveal the "After" shots. It's just like that LBD tucked in your closet—easy to change up each time with just a few tweaks.
The best thing about going with white shaker cabinetry in a kitchen? When someone walks into a white shaker cabinet kitchen, they'll never say, "this is so 2005!" or "this is so 2020!" White shaker kitchen cabinets have been around for more than a century and they'll be around for a lot longer than that. 
Ahhh…but we digress! Onto the fun before photos.
---
BEFORE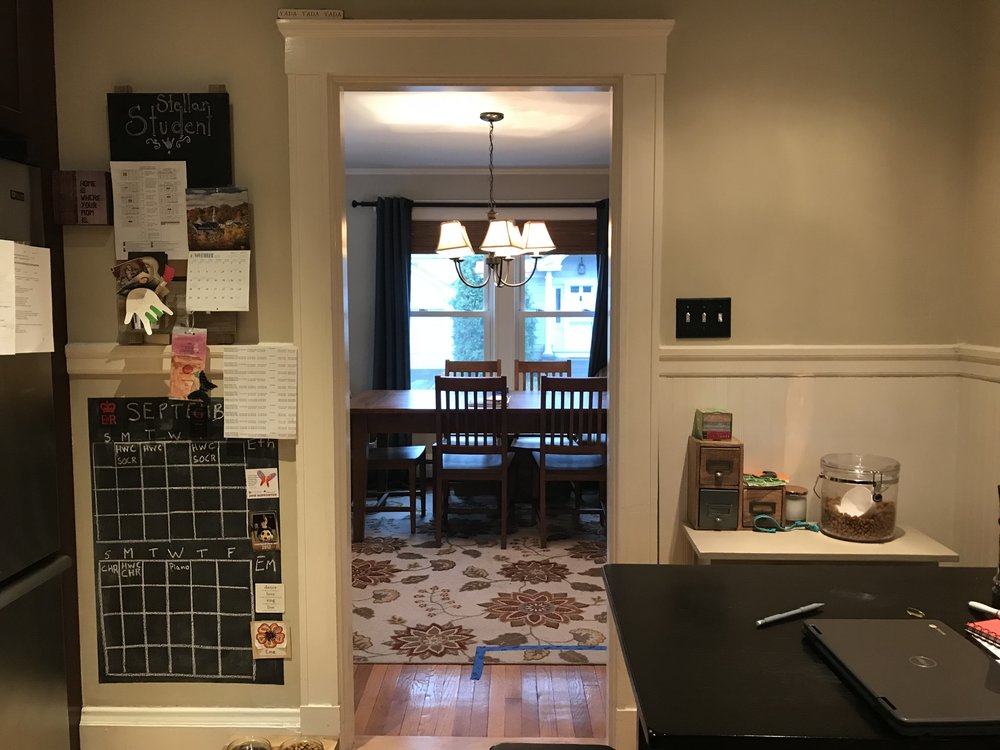 ---
AFTER
Breathe in that fresh air! This is what it feels like to walk into this home now! We opened up the wall between the dining room and kitchen, flooding the former cave with tons of natural light. Opening this space up also means you can now move easily through the entry, dining and kitchen area. Before it was like a maze of small passages and walk throughs.
Wall Paint: Sherwin Williams – Egret
Perimeter Cabinets: Sherwin Williams – White Flour
Kitchen Island: Sherwin Williams – Rosemary
This kitchen is now airy and fresh, but at the same time cozy and still in keeping with the feel of this 1930s home. How did we do it? Well, pull up a seat at that amazing kitchen island and we'll tell you…
Sure, this is a white Shaker kitchen…and then some! This stunner of an island is Sherwin Williams Rosemary Green, maybe one of our favorite paint colors to date. It's a beautiful contrast to the white perimeter cabinetry. We brought in warmth and texture with vintage one-of-a-kind rush-seat stools and of course two beautiful vintage rugs from The Shophouse by Trim. You can shop for similar rugs here. Schoolhouse pendants and a simple, graceful chandelier nod to the home's original architecture. Adding a few plants, vintage primitive pottery, and an antique wood dough bowl layer the kitchen with depth and character.
SHOP KITCHEN
We hope you enjoyed seeing the transformation of this kitchen as much as we enjoyed doing it! And, we cannot wait to share our latest kitchen project with you, but you'll have to hold tight on the final pics for that one…Demolition is only starting this week!
Photography: Megan Booth Photography
---